Paintings in oil by William A. Suys*, Jr., OPA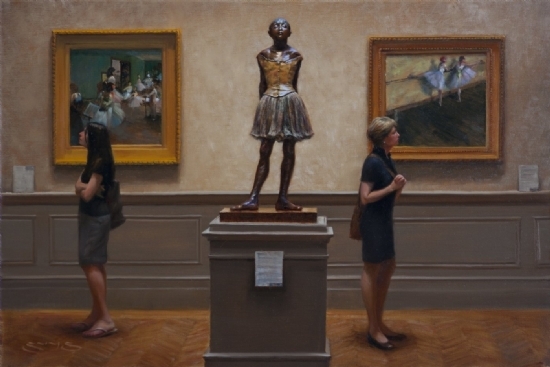 "Artist William Suys is clearly able to capture a wide range of emotions. I'm drawn to the fantastic portraits he has done of various people -- he does not hold back when capturing sorrow or joy on a surface. Additionally, William's work involving animals is some of the best that I've seen… he skillfully captures their personalities -- revealing that there is more to an animal than 'just' an animal. In my opinion, William is a master painter… he is also a master of conveying emotion."
Art critic Brian Sherwin, Editor of The Art Edge
Portraiture - Fine Art
Winner, Best in Show - Salon International at the International Museum of Contemporary Masters of Fine Art 2013
Signature member, Oil Painters of America
Awards Juror for 2014 Richeson75 Figure & Portrait competition. $10,000 top prize
"Editor's Choice Award" - American Art Collector Magazine, Salon International 2013
"BoldBrush Award" BoldBrush painting competition 2014
First Place, Jack Richeson 'Animals, Birds & Wildlife' Exhibition 2012
Dual Finalist - Art Renewal Center International Salon 2012/2013, Finalist 2011/2012
Oil Painters of America National Exhibition 2014, 2013, 2012, 2011 & 2010
Portrait Society of America, Certificate of Excellence** 2001, 2002
Included in "Today's Masters" - Fine Art Connoisseur, March/April 2013, February 2014
Invited Artist, Inaugural Olmstead Plein Air, 2015
Door County Plein Air National Invitational - Featured Artist, 2015, 2014, 2011 & 2010
Selected to Master Painters of The World - Galerie Pierre, France
American Academy of Equine Art – Shades of Blue & Gray, The Horse in the Civil War, Lexington, KY 2014
Southwest Art – Show Feature, November 2013
Oil Painters of America National Salon Show 2013
Richeson Still Life & Floral Exhibition-Dual Finalist 2014
Masters in Miniature Invitational - Trailside Gallery, Jackson Hole, WY 2013, 2014
American Miniatures invitational- Settler's West Gallery 2012, 2013, 2014
Scottsdale Salon of Fine Art - Legacy Gallery, Scottsdale, AZ 2012 & 2011
Richeson Animals, Birds & Wildlife competition - Triple Finalist 2012, Dual Finalist 2013
Arti et Amicitiae Exhibition, Amsterdam, Holland. In conjunction with Salmagundi Club, NY 2011
Second Place, Randy Higbee Gallery Award 6" squared 2012
Western Visions exhibition - Manitou Gallery 2012
Oil Painters of America Eastern Regional Exhibition 2012, 2014
Richeson International Figure/Portrait competition - Dual Finalist 2011
Selected for 2012 Western Masters Art Show & Sale
Winner, Best in Show - Quick Paint, Cedarburg Plein Air Competition: "The Briar Patch" 2010
People's Choice Award, Cedarburg Plein Air Competition: "Alfresco at the Anvil" 2010
Award Winner-6" x 6" Show, Higbee Gallery, Costa Mesa, CA 2012, 2011 & 2010
Invited artist, Howard/Mandville Small Works show, Seattle, WA 2014, 2013, 2012, 2011, 2010
Winner, Best in Show, Wauwatosa Plein Air Affair 2009
Honorary Artist's Chair, Open Canvas Event MIAD 2009
Mary Nohl Suitcase Fellowship
President's appointment to Salmagundi Club, NY
I believe a successful piece of art—whether subjective or abstract, painting or sculpture—takes on a life and spirit of its own. Beyond simply viewing the work, you become personally involved in it. The most successful work can be measured by its ability to compel the viewer into its environment and to touch emotions in a unique and timeless way. The best work will stay fresh and compelling forever.
I am committed to artistic excellence, lifelong growth, and a body of work that will stand the test of time.
*Pronunciation of Suys ("Size"): like "buys" or "guys"
**Current designation of award; originally designated Certificate of Merit.